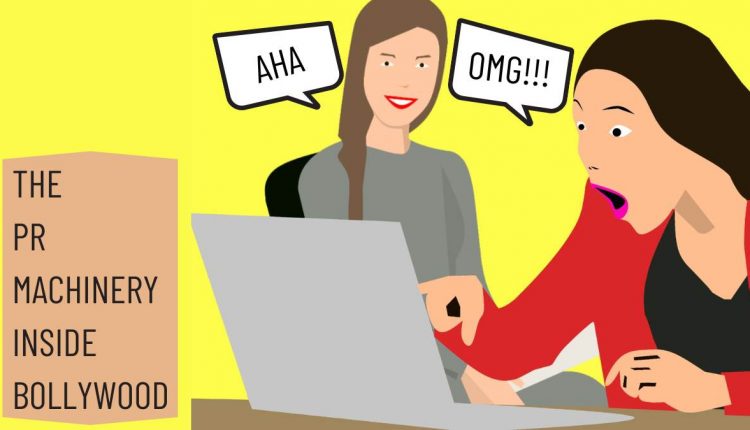 The changing face of the Bollywood PR machinery
Trends to watch: The evolution of Bollywood PR in the Digital Age
Bollywood, known for its glitz and glamour, has a vast and complex PR industry that works tirelessly to promote movies through Bollywood PR agencies, music with Music PR agencies, and celebrities with Celebrity PR agencies and personal PR. In recent years, the Bollywood PR industry has undergone significant changes, with an increasing focus on digital PR and reputation management. This article provides insights into the current trends, challenges, opportunities and future developments in the Bollywood PR industry.
Bollywood PR is transforming
The field of entertainment public relations has undergone a transformation from simple propaganda to more controversial and manipulative strategies. This can be seen in the evolution of Bollywood PR over the last 25 years, which offers valuable insights into the individuals and circumstances that have contributed to the development of these modern public relations techniques.
Shift towards digital PR
The trend towards digital PR is expected to continue, with an increasing focus on online news media platforms such as new-age websites, legacy websites, veteran websites and a strong Google presence.
Reputation management
Reputation management has become an essential aspect of PR, with publicists working to manage the image of their clients and prevent negative publicity. The rise of social media has made it more challenging to control the narrative, and publicists are adapting to new challenges and opportunities.
Privacy concerns
Privacy concerns have become a significant challenge for the PR industry, with publicists struggling to maintain a balance between their clients' private and public lives. The media often sensationalizes personal lives and relationships, and publicists are working to manage these narratives and protect their clients' privacy through crisis management.
Industry consolidation
The Bollywood PR industry is expected to witness consolidation, with larger agencies being more prominent compared to smaller ones to expand their reach and offer more comprehensive services. This trend is expected to continue, with larger agencies dominating the industry and smaller agencies specializing in niche areas.
Industry forecast
The Bollywood PR industry is expected to continue growing, with an increasing focus on online media platforms such as national news websites, business websites, entertainment websites, lifestyle websites and a strong Google presence. New players are expected to enter the market as the demand for PR services continues to grow.
The future is hybrid !
Recently, Bollywood's most famous publicist Dale Bhagwagar conducted a Masterclass for the students of Pearl Academy in Mumbai. An article in the Ahmedabad Mirror quotes him saying that the future of PR is hybrid.
The site reports that during the Masterclass, Dale touched upon various topics including journalism, PR, event management, advertising, marketing, social media, crisis management and digital marketing, saying that the future of image-building and branding will require a clever mix of marketing and PR spin. "Make no mistake, the future of PR is hybrid," he declared.
The Ahmedabad Mirror website further reports that during his talk, Dale also addressed the prevalent contemporary phenomena of paid news, fake news, citizen journalism, Moonlighting, and The Great Resignation, which have become part and parcel of our lives since the onset of the pandemic-induced work-from-home culture.
Who is Dale Bhagwagar?
For the record, Dale Bhagwagar has been a leading figure in the Indian entertainment industry for more than three decades and heads the PR agency Dale Bhagwagar Media Group. He also runs BollywoodPR.in, the premier authoritative PR website of the Indian entertainment industry, which serves as a guiding light for new-age PR agencies in Mumbai and PR professionals all over India.
He has been a market leader and the greatest trendsetter in entertainment public relations and is termed by the media as Bollywood's only PR guru. Business Standard has called him the Indian entertainment PR industry's most significant agent of change which makes him legendary in the field of entertainment public relations. Moreover, due to his vast experience and expertise which spans over three decades in the news media, Dale Bhagwagar has been touted as the most trusted celebrity publicist in Bollywood.
Challenges due to the pandemic
The COVID-19 pandemic has resulted in restrictions on film production and promotions, leading to short-term challenges for the industry. However, in the long-term, the industry is expected to recover, with a growing demand for PR services and reputation management.
Future developments
The increasing focus on digital platforms could lead to a shift in the way PR is conducted, with more emphasis on new-age news websites and more collaborations for branded content. The ongoing debate on the regulation of social media and more importantly, on AI, could also have an impact on the industry, with new guidelines and rules affecting the way publicists interact with fans and promote their clients' projects.
Final take
All in all, the Bollywood PR industry is a dynamic and ever-evolving field, with celebrity publicists and Bollywood PR agencies in Mumbai working hard to promote movies, stars and their personal brands. The trend towards digital PR, collaborations in branded content and reputation management is expected to continue, and larger agencies are likely to dominate the industry. The industry is expected to recover from the pandemic's short-term challenges, and new players are likely to enter the market. Publicists will need to stay up-to-date with the latest trends and developments and continue to innovate and adapt to new challenges and opportunities.