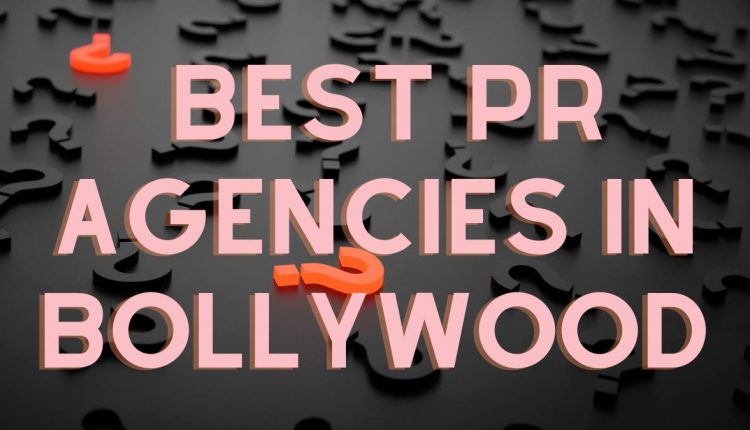 What are the best PR agencies in Bollywood?
Bollywood is one of the largest and most dynamic film industries in the world, with a huge fan following and a constant demand for fresh and engaging content. With the ever-increasing importance of digital media, the role of PR agencies has become even more crucial in shaping the public image of Bollywood celebrities. In this article, we will discuss the best PR agencies in Bollywood and what makes them stand out.
The topmost PR agencies in Bollywood
As listed in our section of Bollywood PR agencies, the top best Bollywood PR Agencies in Mumbai, India, include names such as Dale Bhagwagar Media Group, Hype PR, Parull Gossain Publicists Inc, Raindrop Media, Spice PR and Universal Communications. These agencies have been associated with some of the biggest names in the industry and have a proven track record of delivering results.
The importance of performance in public relations
From a performance point of view, the best PR agency for a Bollywood celebrity is always the one that can get their message conveyed to the media on a regular basis, and with control over the discourse. In today's times, this has also expanded its scope to SEO as Google has emerged as the ultimate platform for judging the perception of any brand.
Music PR and Television PR agencies in India
The same is the case with Music PR and Television PR in India. Entertainment publicists who cater best to Bollywood news websites are now considered to be the most influential for the present and the future.
Understanding the entertainment PR landscape
Apart from the top PR agencies mentioned earlier, there are several other notable PR agencies in the entertainment industry, with Bollywood PR having evolved in the last 25 years. However, it is not just about the big names. There are several individual freelance PR professionals who have carved a niche for themselves in the industry.
Many of these big and small agencies are known for their strategic understanding of PR. While it is important for PR agencies to have a strong digital presence, they must also be able to create a personal connection with their clients, something which the Bollywood industry famously terms as "tuning" (vibe).
This involves understanding their clients' needs and preferences, and tailoring their communication accordingly. A good PR agency must also have a deep understanding of the media landscape, and be able to adapt to the changing PR trends and preferences of the public.
Creating a strong online presence
In recent years, the importance of online media has increased manifold, and PR agencies that have a strong digital presence are considered the best. These agencies are not just limited to traditional web media outreach, but also actively engage with blogs, other online forums, and sometimes even international websites, to ensure that their clients' message reaches a wider audience.
Influencers lack in PR
According to recent research, Indian social media influencers lack in PR. They are receiving a greater number of offers and assignments than Bollywood celebrities. Nevertheless, despite their significant followings on platforms like Instagram, influencers are earning less than even minor Bollywood personalities or TV actors. This may be attributed to the fact that most influencers concentrate solely on social media and neglect to establish a steady online presence on Google.
Handling crisis situations effectively
Another factor that sets apart the best PR agencies in Bollywood is their ability to handle crises effectively. In the age of social media, where a single tweet or post can go viral in minutes, it is crucial for PR agencies to be able to manage crises in a timely and effective manner. This involves having a crisis management plan in place and being able to respond quickly and effectively to any negative publicity.
Conclusion
In conclusion, the best PR agencies in Bollywood are those that can create a strong online presence for their clients, while also maintaining a personal connection with them. It is not just about getting the message out, but also about ensuring that the message is conveyed accurately and in a manner that resonates with the public. With the rise of social media and online platforms, the role of PR agencies in shaping public opinion has become even more critical, and it is essential for Bollywood celebrities to choose the right agency that can help them navigate this ever-changing landscape.